If you're a small business owner new to SEO, you probably heard that link building is an important part of your SEO strategy. Effective link building strategies can significantly improve your keyword rankings in search engine result pages (SERPs). In this article, we'll break down how to do link building correctly and mistakes you need to avoid.
There are a few different link building strategies available. Hopefully, you'll find one or two on this list that you can easily incorporate into your DIY SEO routine.
1. Find Broken Links
Website visitors don't want to be redirected to a page that's broken or doesn't exist. Sadly, we're all guilty of having broken links on our websites at some point. This usually occurs when we update or remove obsolete content but forget to update the links that lead to the new content. As a result, website visitors are redirected to non-existing pages.
This strategy involves searching for broken links on other relevant websites. Your goal is to find broken links on other sites and get the site owner or webmaster to replace those links with your relevant links.
This strategy means that you'll need to find broken links and notify the host. Then, you can offer them your link as a replacement. It's effective because you are helping them fix their broken link, which hurts their SEO. But this strategy only works in your benefit if your link is relevant! That means, you want your link to lead to a similar piece of content that it would be replacing. Ideally, you'd want your content to be much better because this will give the website owner more incentive to use your link rather than find one on their own.
How to do it?
You can search for broken links on any website using Ahrefs' free broken link checker tool.
Once you find broken links, see if any of your current blog content can replace those broken links. You may need to update current content or you may want to develop new content altogether. The choice is yours!

The last step is to find the webmaster's contact information and send your pitch email. Always be professional and polite and tell them why their audience would benefit from your content. What about your content makes it useful or informative? Give the webmaster a good reason to replace the broken link with your link.

Avoid providing irrelevant or unrelated links!
2. Reclaim Lost Links
Your website will inevitably lose links over time. That means, other websites that have linked back to yours will stop linking back to it at some point. This is a natural process and doesn't reflect the quality of your website in any way. However, there is a way to remedy the loss of these links.
When you lose a link it's typically because the webmaster removed your link on purpose or by accident, the website is down or deleted, or the URL of their site has changed. Before reaching out to the owner of the site, try to figure out on your own why the link was removed. That way, you'll know how best to approach the situation.
How to do it?
You can use Ahrefs' Free Backlink checker tool to find links you've lost.
When reaching out to website owners, be sure to be professional and friendly. Inform them that the link you previously had on their webpage was removed and ask them if it can be put back.
3. Comment on Forums
Forums are great places to promote content, which is an opinion that's been observed by SEO geniuses around the world.
We use forums to promote content by inserting links to our posts and pages. We don't do this by blatantly posting the link out in the open, though. Instead, we make an informative, well-thought-out comment and insert our link into the relevant part of the comment.
For example, if we're commenting on something about financial growth, we might write up a comment that suggests a tip to grow financial wealth and then insert our link into a relevant word or phrase such as "improve your wealth". That word or phrase is referred to as the anchor text. The anchor text is the visible, clickable text in the hyperlink.
Forum comments receives a lot of visibility and often show up in SERPs for specific questions or topics.
How to do it?
Find industry relevant forums and join them. Each forum will have their rules so be sure to read and abide by them. Then share helpful comments that contribute value to the conversation.
Avoid being spammy at all cost!
4. Find Unlinked Mentions
With so many people running websites and blogs, there's bound to be overlap in terms of mentioning other creators. Often, when someone mentions your product or your website, they don't link directly back to you. This means that interested parties must conduct a search to find you and, let's be honest, no one has a ton of time for that in today's world.

This is probably one of the easiest methods of obtaining a backlink to your website. This is because the webmaster already mentioned your brand, evidently finding your content good enough to share with their audience. So, there's not much convincing you would have to do.
How to do it?
At this time, we were not able to find any free tools that allow you to discover brand mentions but there are plenty of premium tools that offer this service. Simply Google brand mention tool and choose one that's best for you.
When you find a mention of yourself, reach out to the website owner and simply ask if they would be comfortable linking out to you. One convincing argument could be, when a visitor reads their blog and comes across your brand, they can just easily click a hyperlinked anchor text that would direct them to your relevant content.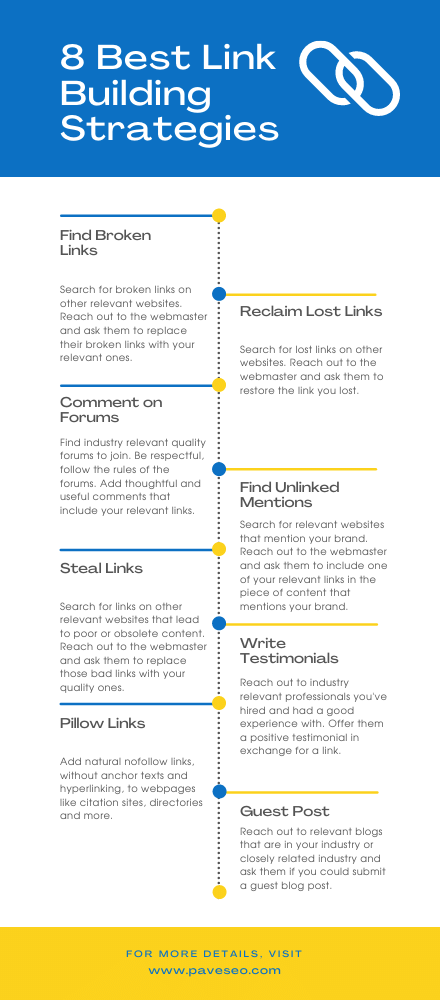 5. Steal Links
Okay, before you come at us for stealing links from other people, hear us out.
Have you ever come across a truly terrible blog post or piece of website content? The kinds of pages we're talking about will have very little useful content, poor format, broken links, obsolete information, and a host of other issues.
If you have, and you also happen to have a piece of content similar to said poor content (but much better in terms of quality!), then you're already in the market for using the link stealing link building strategy.
How to do it?
When you find this inferior content, reach out to the website owner and ask them to consider your content instead. Be respectful, and polite and never insult the content that you're trying to replace. You never know what the webmaster's relationship might be to the original content creator.
Let the website owner know why your content would be helpful for their audience and mentioned aspects of your content that perhaps the original contributor didn't include. If they see the value in your content, they should have no problem removing the existing link and replacing it with yours.
6. Write Testimonials
Writing testimonials is a lesser-known strategy that deserves a spot on this link building strategies list. It's a great example of nepotistic opportunities that can land you a link on a trusted, high-traffic site.
Testimonials benefit both you and the brand you're writing a testimonial, that is of course, if you truly had a good experience working with them. You never want to be dishonest when writing reviews or testimonials. Never fabricate a positive testimonial simply because you want to receive a link back to your website.
This strategy doesn't work well when you're dealing with contractors and service providers that have nothing to do with your industry. The goal is to receive backlinks from relevant websites that are either in your industry or an industry similar to yours.
This is because you want search engines to accurately categorize your website and the content on it. If you have backlinks from multiple websites that have nothing to do with your industry, it won't be clear to the search engines what your website is about.
Contractors and service providers in relevant industries, who have provided you with top-tier service, are perfect for this strategy. No doubt, they'd appreciate having a good testimonial to publish on their platform and you'd appreciate having a link from an industry relevant quality website.
How to do it?
Reach out to industry relevant professionals you've worked with and had a good experience with. Offer them a positive testimonial in exchange for a link.
7. Pillow Links
Pillowing is one highly effective way to beat the search engine algorithms and get your content noticed. Essentially, you add natural links, without anchor texts and hyperlinking, to webpages. These links are typically nofollow links, which means these websites won't pass along any website authority to your website.
Why would you want to obtain nofollow links? Well, because it's important to have both types of links. Pillow links diversify your link profile, making it appear normal.
There are several pillow link building strategies that you could use but the most popular include:
Video Links
Video links are most commonly found on video sharing platforms such as YouTube. To make use of video links, you would post a video about a topic and then, in the video description, post a link to your website or blog where viewers could find more information.
Citations Sites
Citation sites include websites like Yelp, Yellow Pages and the like. You would simply set up a profile on each of these sites that include a link to your website.
Directory Links
Directories are basically online phonebooks for businesses. These directories can be fantastic tools for redirecting traffic to your content once you create a link.
You can create links by finding and adding your site to relevant industry related directories that are accepting new submissions. The best ones that are less spammy, typically require a fee.
Professional Organizations
No matter the industry you're in, there's probably an organization dedicated to it. Simply search for and join, likely for a fee. You should receive a dedicated profile page on these websites.
You can also consider joining multiple chamber of commerce organizations in your regional area. Again, for a fee. Most have websites where they will provide their members with a dedicated business profile as well.
8. Guest Post
Many great agencies have been built by guest posting. Yes, it's an old tried-and-true strategy that takes a fair amount of time, but it also happens to be one of the most effective link building strategies for creating links and improving traffic. In addition, guest posting allows you to create strong relationships with top-of-the-line influencers.
The downside, this method requires that you regularly reach out to other blogs on a consistent basis. So this isn't the method for you if you're hoping for a passive way to build connections.
Guess posts don't typically look like anything other than a regular blog post and for the most part, there's no real way to decipher what's a guest post and what isn't. But, if you're writing a guest post for a blog or website, you can easily insert relevant links to your content into your post.
Just make sure that your links fit naturally into your post and makes sense.
How to do it?
Reach out to relevant blogs that are in your industry or closely related industry and ask them if you could submit a guest blog post. Be professional, polite and convincing! Some blogs have guest post submission pages that outline the requirements for submissions. Read those pages and make sure you follow their requirements.
For the blogs without submission pages, find the contact information for the webmaster and submit an email. Let the website owner know why your submission would be beneficial, or useful, or relevant, or informative for their audience.
It may be a good idea to give them at least two different topic ideas. In order to do that, you'd need to become familiar with the content they produce. You won't want to submit content that isn't consistent with what they already produce but you also don't want to submit anything they already have.
You could also simply ask the site owner if there is a piece of content they'd be interested in you producing.
Conclusion
There you have it! Eight easy link building strategies that you can improve your SEO rankings this year. All these methods are useful and, depending on your personal preference, you're likely to find one or two (or more!) that work for you. Have any questions about this article? Or perhaps you'd like to share some link building methods we haven't mentioned. Drop us a line in the comment section below. We'd love to hear from you!