SEO Web Design That Converts.
With our SEO web design services, you can trust us to elevate your online presence, create a lasting impression, and establish a strong digital foundation for your success. Our meticulous attention to detail, seamless collaboration, and commitment to exceeding client expectations ensure that every project we undertake is transformed into a visually stunning, highly functional, and conversion-driven masterpiece. Partner with us today!
Try our expert SEO Web Design Services
From e-commerce websites to dynamic corporate portals, our expertise in web design covers a wide range of industries and objectives. We have a proven track record of crafting engaging and user-friendly interfaces that enhance the online shopping experience, streamline business operations, and drive conversions. Our team understands the unique requirements of different sectors and can tailor designs to align with your brand identity, target audience, and business goals. Whether you're a startup looking to establish a strong online presence or an established enterprise seeking a website revamp, we have the skills and creativity to bring your vision to life and deliver a digital platform that sets you apart from the competition. Some industries we handle include but aren't limited to:
Our skilled and dedicated team specializes in providing customized web design and development services to meet your unique business needs. We offer a comprehensive range of in-house solutions delivered by experienced professionals. Including chat integration complete with customer service reps and a knowledge base specifically for your business.
Experience & Track Record
We not only have a track record of happy clients for over a decade, but we have experience across multiple platforms. We can build your website on platforms like WordPress, Shopify, Squarespace, Webflow and others!
SEO Focused Web Design
We implement effective SEO strategies during the web design process, optimizing your website's structure, content, and keywords to improve its visibility on search engines and attract organic traffic.
Tailored Solutions
We understand that every business is unique, and we take the time to understand your specific requirements. Our web design services are fully customized to align with your brand identity and business goals.
Our Latest SEO Web Design Projects
We have more websites in our portfolio. Just reach out to us to see more. We use customer data, website analytics and market research to build you an asset that your company can rely on.


Vanilla Cow Travel Company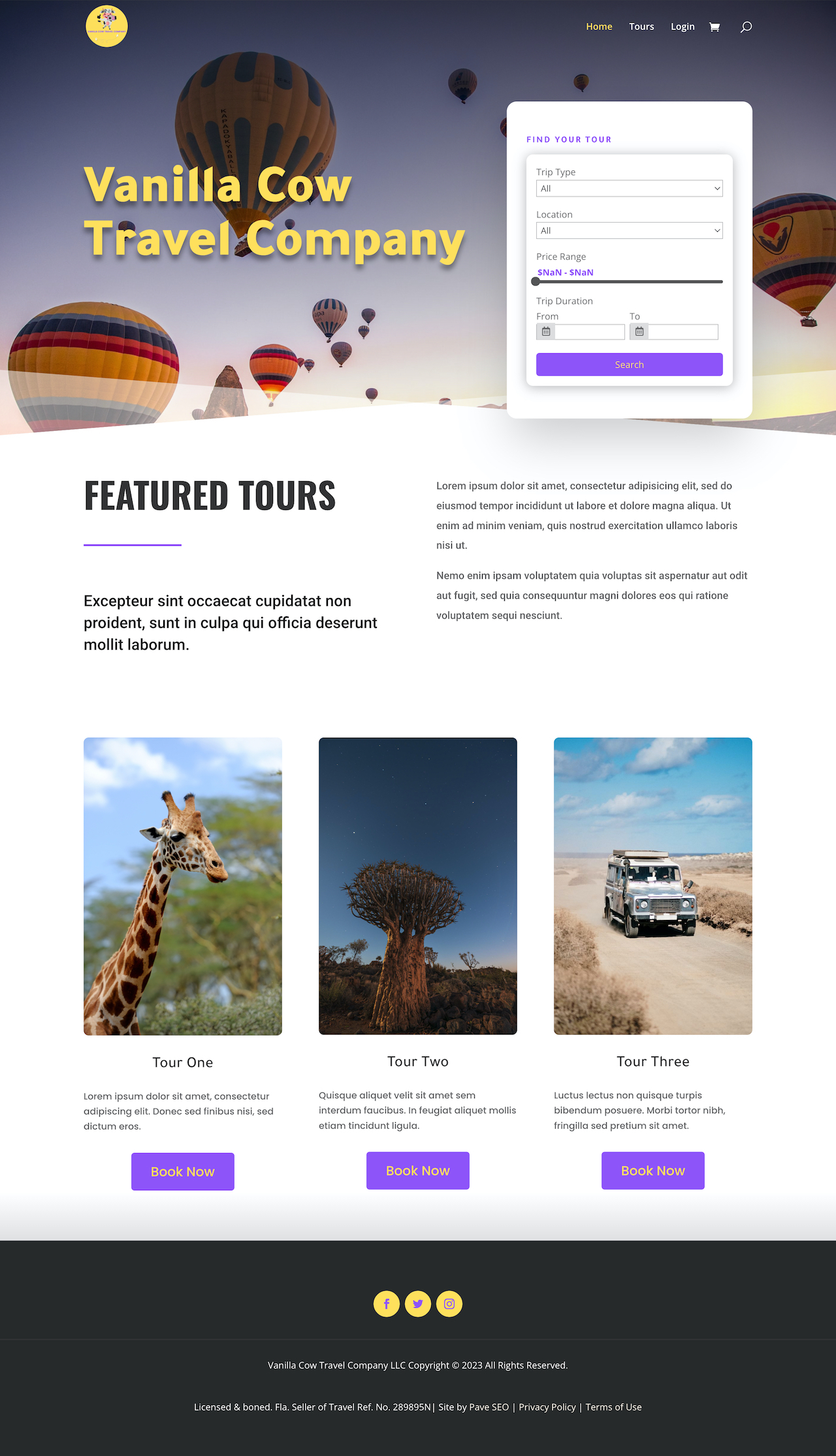 Picture Perfect Inspections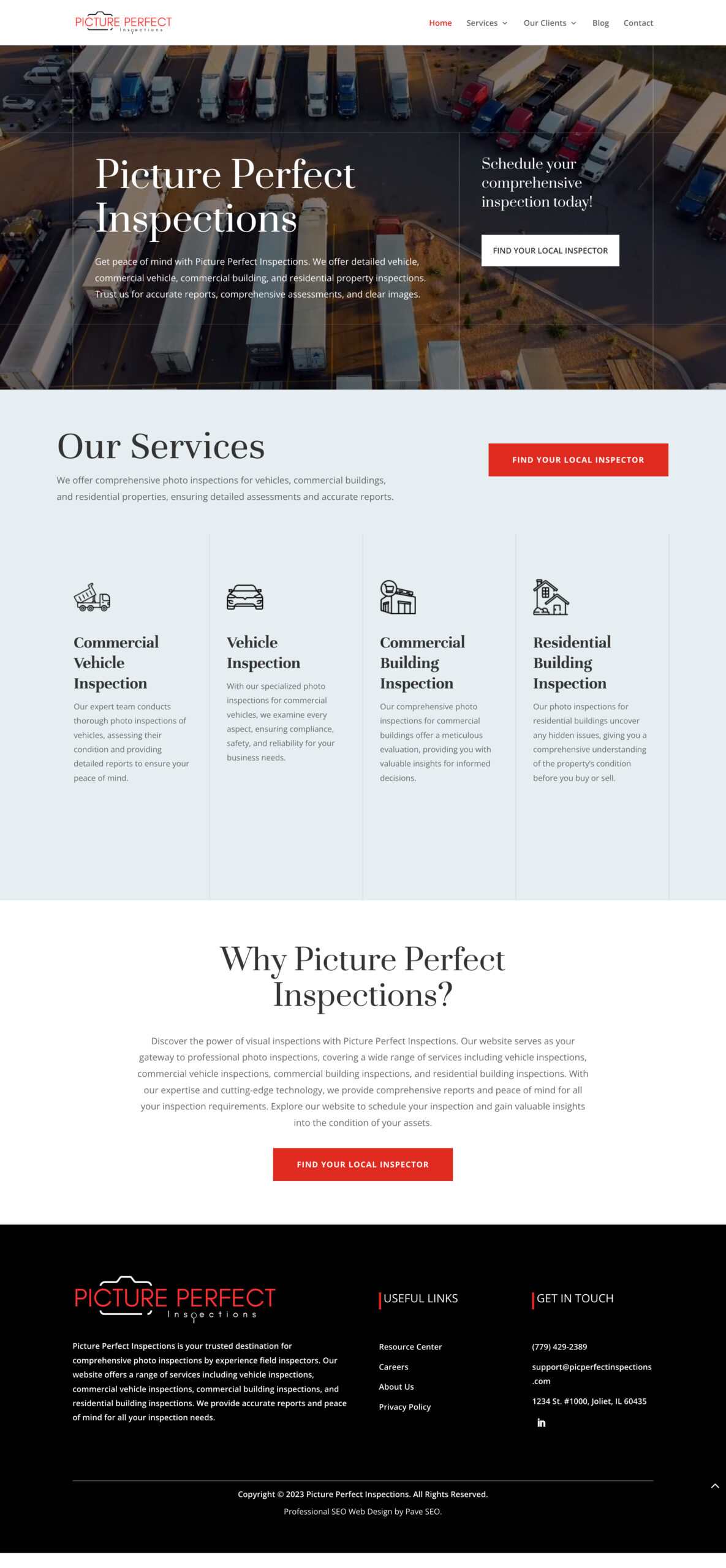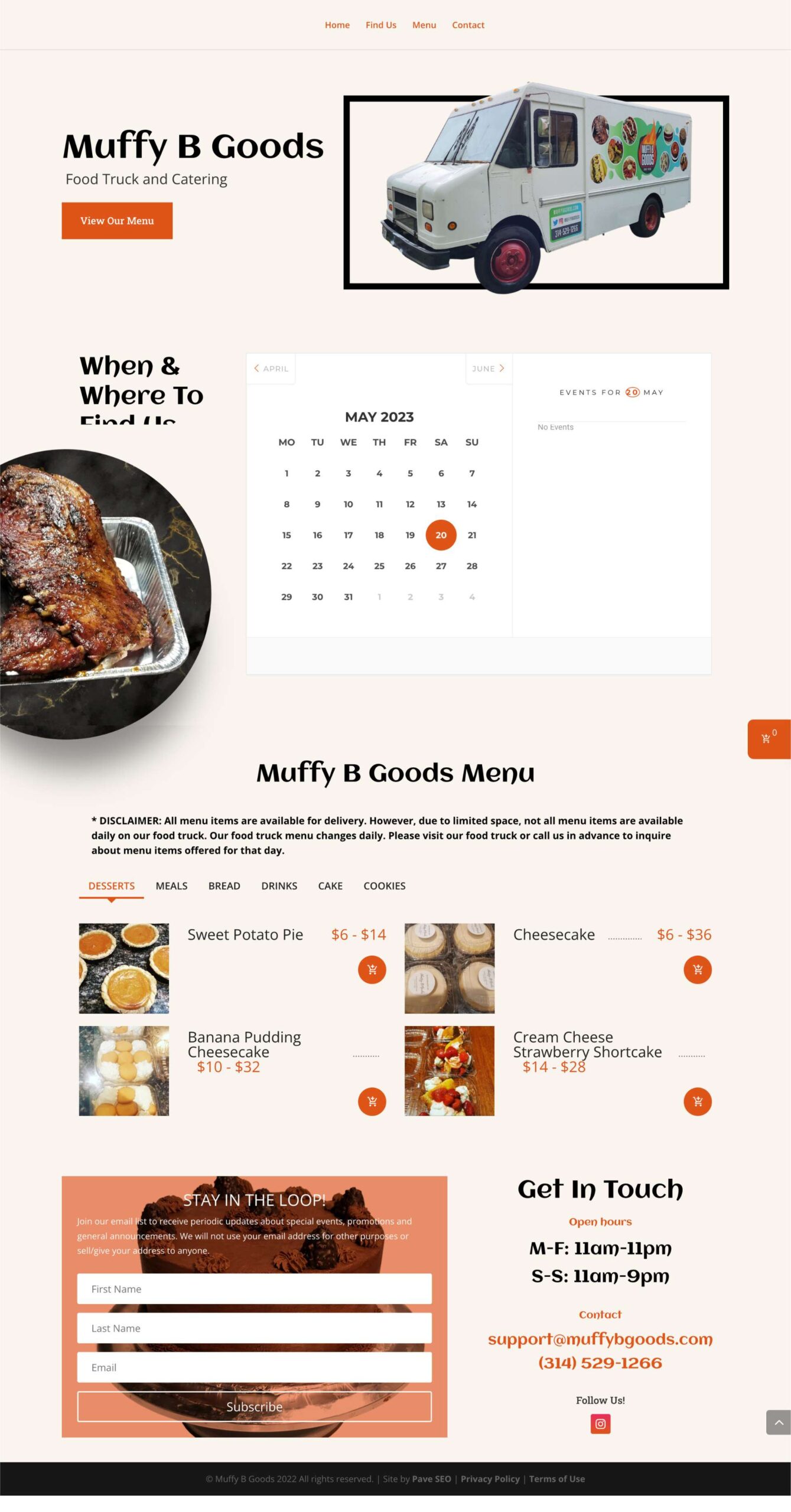 SEO Web Design Testimonials
Unlock the potential of your online presence with our SEO web design services. Our satisfied clients have witnessed remarkable outcomes, experiencing the power of our expertise firsthand.
It was a pleasure working with Pave SEO for my website design. She created a website that looked and felt like me and met all of my needs. She takes into consideration all the needs of her client and creates the best possible design that will not only be functional but also esthetically pleasing. She is an excellent problem solver and has an amazing ability to pivot in the best interest of her client. I'm so happy with the finished product and will work with her again. She is professional, kind and a person of integrity. I highly recommended Pave SEO.
Geneva's approach to web design and SEO is from a place of passion. I could tell she adopted my website as her own through the process. She explained things in a way that I understand and that made me even more excited about my project. She was very responsive during the process, as I had lots of questions! And what was truly impressive is the way she showed me ways to cut costs without compromising quality. A great experience!
Geneva saved my life. I was looking to update my website. I had an idea but was unsure how to bring it to life. Geneva brought my website to LIFE and did so much more. She took the time to get to know me and helped me clarify my website. SHE IS AMAZING!!!!!!! She was patient with me and answered all my questions. I was provided with amazing tips and tricks. I look forward to working with her more. If you are looking for someone knowledgeable at not only SEO but website, please look no further.
Our Website Design Pricing
We will build a template WordPress website based on your samples provided, direction and brand guidelines.
WordPress Template
1 Hour Brainstorm
Customization of Theme
Mobile Responsive
Social Media Integration
Mailing List Plugin
Contact Form
Photo Sourcing
2 Rounds of Revisions
We will build a customized WordPress website based on your samples provided, direction and brand guidelines.
Customized WP Theme
1 Hour Brainstorm
Mobile Responsive
Social Media Integration
Google Maps
Mailing List Plugin
Contact Form
Photo Sourcing
Google Analytics
Google Search Console
Social Sharing
SEO Copywriting
On-page optimization
Security Plugin
3 Rounds of Revisions
1 Hour "How To" Tutorial
We will build a website from scratch with mock-ups on a WordPress CMS based on your requirements for ultimate success.
Website Package Details
Website from Scratch
2 Page Custom Mock-up
Custom WordPress CMS
1 Hour Brainstorm
Mobile Responsive
Social Media Integration
6 Custom Icons
Google Maps
Mailing List Plugin
Contact Form
Social Sharing
Photo Sourcing
404 Redirect
XML Sitemap
Security Plugin
Google Analytics
Google Search Console
2 Hour "How To" Tutorial
3 Rounds of Revisions
Here are some of our most frequently answered Search Engine Optimization questions and answers.
How much do you charge to build a website?
At Pave SEO, we understand that each website project is unique and requires a customized approach. There is no one-size-fits-all solution. We take the time to thoroughly assess your needs and ask the right questions to determine the scope of your project. Based on this assessment, we provide a tailored price quote that aligns with your specific requirements. Our pricing starts at $2500 for our smallest package. Get in touch with us today to kickstart the quote process and embark on your website design journey!
How long will it take to complete my website?
At Pave SEO, we typically aim to complete website projects within a timeframe of 3-6 weeks. However, it's important to note that the timeline can vary depending on the specific project and client requirements. Factors such as the level of input provided during the initial stages, promptness of copy, and timely provision of content can significantly impact the speed of completion. Additionally, the complexity of functionality, the number of revisions needed, and whether or not a client needs the setup of a payment plan can also influence the overall timeline. We work closely with our clients to establish a realistic and efficient timeline that meets their unique needs and ensures the successful delivery of their website.
Do I have to be in the Tampa Bay area to work with you?
Absolutely not! We have the privilege of working with clients from all corners of the globe, making communication seamless regardless of your location. We utilize various channels such as email, scheduled calls, and Zoom meetings to ensure efficient and effective communication throughout the entire project. Rest assured, distance is never a barrier when working with Pave SEO. We prioritize clear and timely communication to provide exceptional service, no matter where you are.
Will I be able to update the site myself when it's finished?
Absolutely! Empowering our clients to take control of their website is something we highly encourage. Once your WordPress website is live, you will receive full access to the backend, allowing you to make simple text updates, change photographs, add new products, and adjust pricing effortlessly. We believe in providing you with the autonomy to manage your content.
However, for more complex changes and maintenance, such as plugin updates, design or structure modifications, or intricate functionality requirements, we recommend consulting a professional developer on our team. They possess the expertise to handle these tasks effectively.
Upon completion of your website, we offer hourly tutorials at a rate of $120 per hour. These sessions are designed to guide you through the backend navigation, enabling you to make minor updates independently. It's an excellent opportunity to familiarize yourself with the system and gain confidence in managing your website efficiently.
At Pave SEO, we prioritize your convenience and flexibility by providing options for both self-management and professional assistance, ensuring your website remains dynamic and up-to-date.
Will you maintain our website for us?
At Pave SEO, we offer flexibility when it comes to maintaining your website. You have the freedom to choose whether you'd like us to handle it or manage the more minor changes yourself. The decision is entirely yours.
For clients who prefer ongoing support, we provide maintenance services, ensuring your website remains in optimal condition. However, please note that this is not mandatory. Instead, you can simply reach out to us whenever you need updates or modifications to your website, and we will provide you with an hourly quote based on your specific requests. This way, you have control over the frequency and extent of the updates, and you only pay for the services you require.
At Pave SEO, we prioritize your satisfaction and provide flexible solutions that align with your needs and budget. Whether you choose to rely on us for maintenance or handle the minor changes yourself, we are here to support you every step of the way.
Do you provide website hosting and domain?
No, you will be responsible for website hosting and domain. This will ensure that you will have full access to your website. However, we can recommend hosting packages to you based on your needs and we will complete the migration to your new hosting included in our website design package pricing.
Will my website be mobile-friendly?
Certainly! In today's digital landscape, the importance of a mobile-friendly website cannot be overstated. At Pave SEO, we dedicate ourselves to crafting responsive websites that seamlessly adapt to modern devices and browsers.
Who writes the text/content for the website?
For the Bronze package, we kindly request that you provide all the text content for your website. As the expert on your business, your unique perspective ensures the content accurately represents your brand. However, if you need assistance, our skilled copywriter can support you by refining or creating original content for an additional cost of $120 per hour.
On the other hand, the Silver and Gold packages come with the added benefit of SEO copywriting included. With these packages, our team will take care of optimizing your content for search engines, ensuring it aligns with best practices and boosts your online visibility.
Do you only create WordPress websites?
No! While we firmly believe that WordPress is an exceptional content management system (CMS) and powers over 42% of the worldwide web, we understand that different businesses have unique needs and preferences. That's why we also work with a variety of other platforms, including Shopify, Squarespace, Wix, Webflow, Showit, and many more. Our goal is to find the best fit for your specific requirements, ensuring you have a website that perfectly aligns with your business objectives, regardless of the platform you choose.
Is SEO included in my website build?
No, the website build itself does not encompass monthly SEO services. While search engines like Google can crawl and index the content we add to your website, it does not guarantee a top-ranking position. However, we offer exceptional monthly SEO services delivered by our team of specialized experts. Our SEO professionals are equipped to assist you in optimizing your website, improving its visibility, and enhancing your search engine rankings. To explore more about our comprehensive search engine optimization services in Florida, we invite you to visit our dedicated page.
What is photo sourcing?
If necessary, we are more than happy to help you source free stock images from reputable websites like Pexels, Pixabay and Unsplash. We understand the importance of selecting the perfect images, photographs, graphics, and vectors that align with your website and brand. Your input and guidance will be invaluable in finding the ideal visuals that effectively represent your unique identity. Our team will work closely with you to ensure we find the most fitting and visually appealing resources to enhance your website's overall design and aesthetics.
Use the form below to contact us. We look forward to learning more about you, your organization, and how we can help you achieve even greater success with our Web Design services.