WEBSITE REDESIGN GENERATES 396.5% MORE ORGANIC TRAFFIC
Our long term client had no organic website traffic. Through a website redesign, Pave SEO improved organic traffic by 396.5%.
JUST PACK AND GO IS A BOUTIQUE TRAVEL AGENCY LOCATED IN MIAMI, FL.
With several travel specials a year, you can use their team of travel agents to book cruises and group travel. Just Pack And Go was one of our first clients.
"I feel confident that I have someone who has their fingers on the pulse of the digital marketing world. To say that I'm impressed with the things that Geneva can do is an understatement. I have followed her marketing advice in various aspects of my business. She is very knowledgeable about the digital marketing industry as well as about how to present your 'best you' online. Great advice from a dynamic person."
Dawn Cunningham
Owner, Just Pack And Go
PROBLEM
They had a very limited website and weren't getting the traffic and travel sales they wanted. They also had an underutilized email list.
SOLUTION
A strategic redesign of their website to improve usability and calls-to-action. We also included an email marketing strategy to promote and increase travel sales.
RESULTS
396.5% increase in organic traffic and an increase in responses from leads through email marketing.
THEY WANTED MORE SITE TRAFFIC AND TRAVEL SALES.
We soon discovered that Just Pack And Go had a website that was limiting them from gaining more traffic and conversions. We didn't think that they'd be able to grow further with it. They wanted more site traffic that would result in more travel sales.
After auditing their website we determined several areas of focus that needed to be addressed. The main areas included a complete website redesign, SEO content development and email marketing. 
We knew that we couldn't fix everything all at once due to budget constrictions, so we wanted to give them the solutions that would help them the most and wouldn't break the bank.
WE CONDUCTED AN AUDIT OF THEIR OLD SITE. FROM THE AUDIT, WE DECIDED THEY NEEDED A FEW NEW THINGS:
Website design refresh

New content
More strategic calls-to-action
Out-of-the-box website optimizations
Email Marketing
Their website wasn't mobile responsive – which is a problem in Google's Mobile First world.
With the new site, they have a new look, an SEO optimized website that is fast, and their site is mobile friendly! They also have new content and eye-catching and strategic calls-to-action.
But anyone can make those changes. That doesn't mean that they will yield results. A new website doesn't necessarily guarantee more traffic. "If you build it, they will come," doesn't really apply to the internet.
You need a complete digital strategy, like link building, conversion optimization, and content strategy to see positive results.
HOW ABOUT A LITTLE BEFORE AND AFTER ACTION?
Before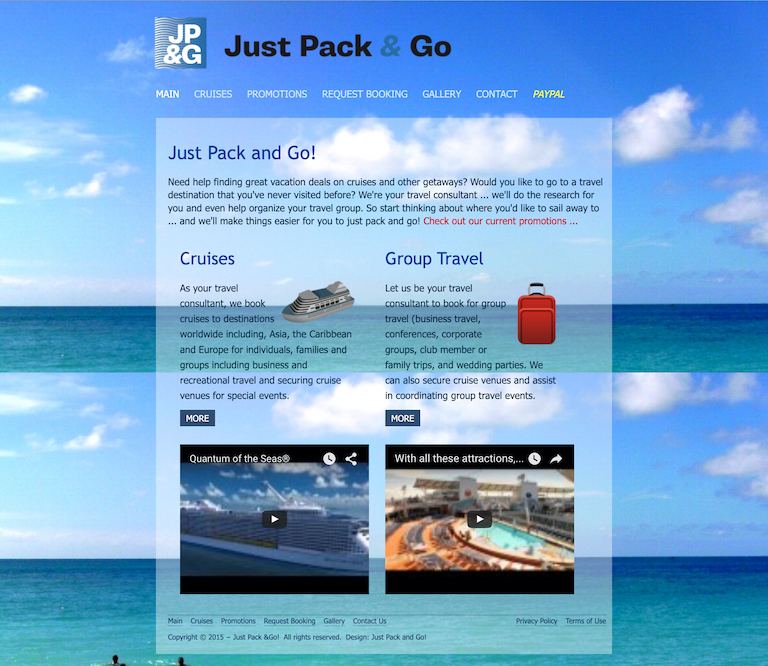 WE HAD TO FIGURE OUT THE RIGHT PROBLEMS TO FIX, AND THE BEST SOLUTIONS FOR THOSE PROBLEMS, THAT WOULD MAXIMIZE THEIR MARKETING INVESTMENT.
Just Pack And Go's success is something we're particularly proud of because they didn't have a large budget. Which is fine by us because it made us get more creative with their solutions. We had to figure out the right problems to fix, and the best solutions for those problems, that would maximize their marketing investment.
It just goes to show that you don't need a million dollar budget to make a big difference in your site's performance. A thoughtful strategy is really what you need the most.
396.5% Increase Organic Search Traffic
0.26% Increase in Positive Lead Responses Through Email Marketing
ATTRACT AND CONVERT MORE LEADS TO YOUR WEBSITE
WE KNOW YOUR CHALLENGE. LET US HELP.