LOCAL SEO CASE STUDY
ON-PAGE AND SEO CONTENT IMPROVES LOCAL SEARCH RANKINGS
Our real estate client had no organic website traffic on their new website. Through on-page optimizations and content development, Pave SEO helped them rank for industry-relevant keywords which resulted in steady website traffic growth month-over-month.
THE ASHLEY HOFFMAN GROUP IS A BOUTIQUE REAL ESTATE AGENCY LOCATED IN MINERAL, VA.
The Ashley Hoffman Group is a full-service real estate practice serving clients in the following areas of Virginia: Lake Anna, Louisa County, Orange County, Spotsylvania County, Goochland County, the greater Charlottesville area and Richmond.
"Geneva is THE BOMB! Period. We contracted Geneva's services to improve our new website's SEO, etc. In short order, we saw success! Impressions and clicks on our website went up steadily and quickly. She is organized, responsive, and always has a plan, which we loved. She charts out a trajectory, clearly explains it, and dives in head-first. Very responsive, organized, and diligent. Produced results. She's also great at coordinating with your web designer, to make sure the appropriate corrections and tweaks are performed to maximize your SEO. If you're considering working with Geneva, stop thinking and just grab her services now. You'll be very happy and you won't regret it."
Grayson Hoffman
CEO, The Ashley Hoffman Group
PROBLEM
They had a brand new website with no website traffic. They wanted to rank for specific keywords to improve their local SEO.
SOLUTION
An SEO strategy that included keyword research, on-page optimizations, content development, and link building. 
RESULTS
We went from ranking for one relevant keyword to ranking for 115 keywords in less than six months.
THEY WANTED TO RANK FOR SPECIFIC KEYWORDS IN ORDER TO IMPROVE THEIR LOCAL SEO.
Pave SEO began working with The Ashley Hoffman Group in Late January 2022. When they first came to us, the real estate agency had recently had a new website built on a new domain. Traffic and rankings didn't exist for the new website.
The Ashley Hoffman Group was already a major success in the local area of Virginia in which they served. Their Google Business Profile and social media channels were regularly updated. However, we needed to optimize both the Google Business Profile and the website.
After auditing their website we determined several areas of focus that needed to be addressed. The main areas included some technical fixes on the website, on-page optimizations including slight UX and UI redesign (handled by their web designer), SEO content development, citations setup, internal linking and a link building strategy. 
WE CONDUCTED AN AUDIT OF THEIR SITE AND DETERMINED THEY NEEDED:
Technical fixes (including improved load time)

UI and UX refresh on homepage

Keyword research
On-page optimizations
New content based on keyword research with good internal linking
Citations
Backlink building via media outreach
When we began the SEO project, The Ashley Hoffman Group's website had many technical errors that needed immediate action. We worked with their web designer to fix those errors.
We also developed content outlines based on the keyword research we performed. Staff members of the real estate agency were able to easily write content based on the content outlines we developed for them.
We optimized each page of the website as well as each article, including an organized internal linking structure.
We also had The Ashley Hoffman Group update their business name on their Google Business Profile while we set up NAP citations on relevant third-party websites.
LOCAL SEO SUCCESS FOR THE ASHLEY HOFFMAN GROUP
Since hiring Pave SEO in late January 2022, The Ashley Hoffman Group has experienced steady organic growth. Optimization efforts resulted in the acquisition of relevant keywords. 19.1% were branded keywords while 80.9% were local real estate-relevant keywords. We ranked on the first page of Google for a number of keywords, including ranking in the #2 spot on Google for the main keyword the client wanted to obtain.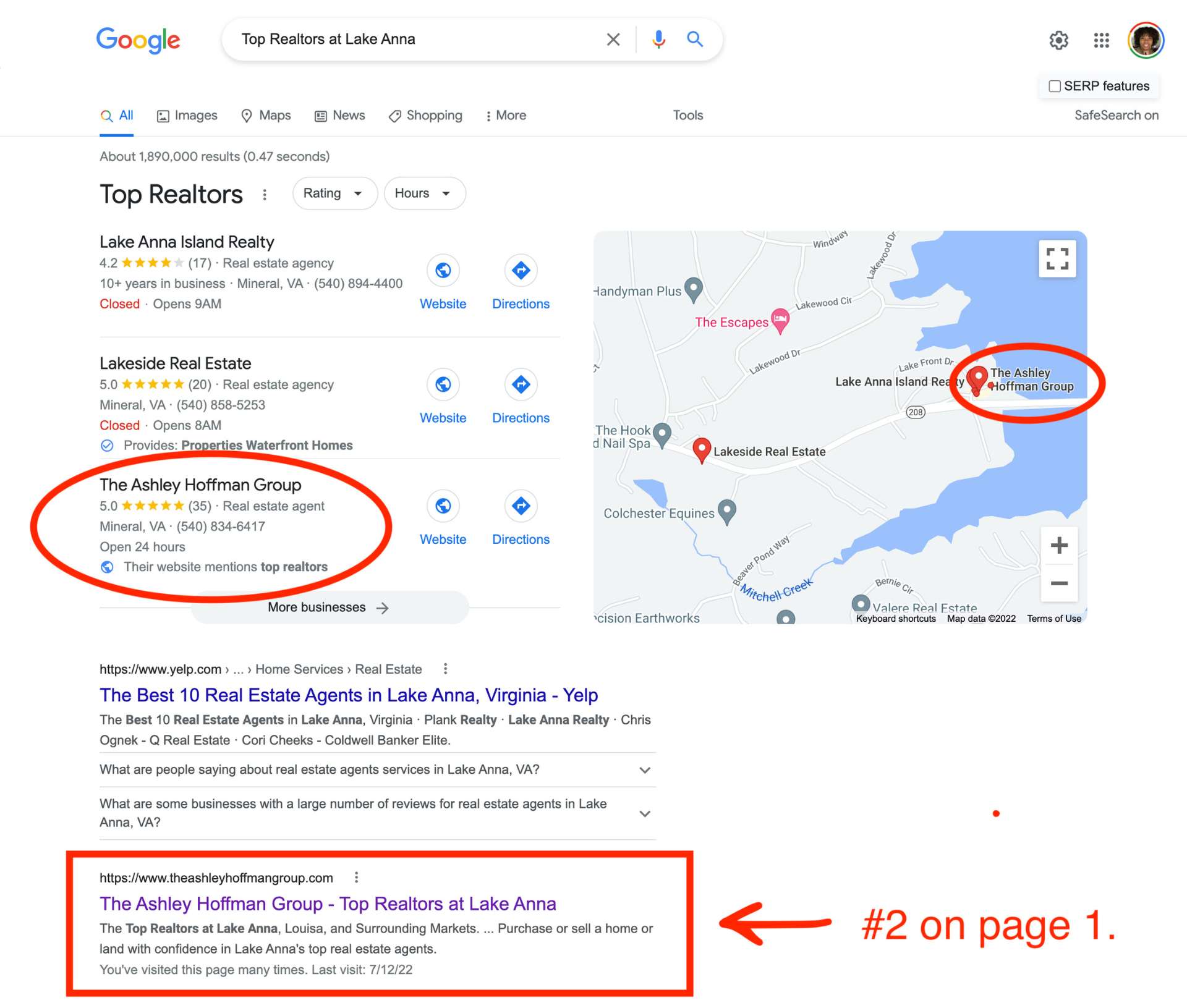 STEADY INCREASE OF ORGANIC CLICKS FROM GOOGLE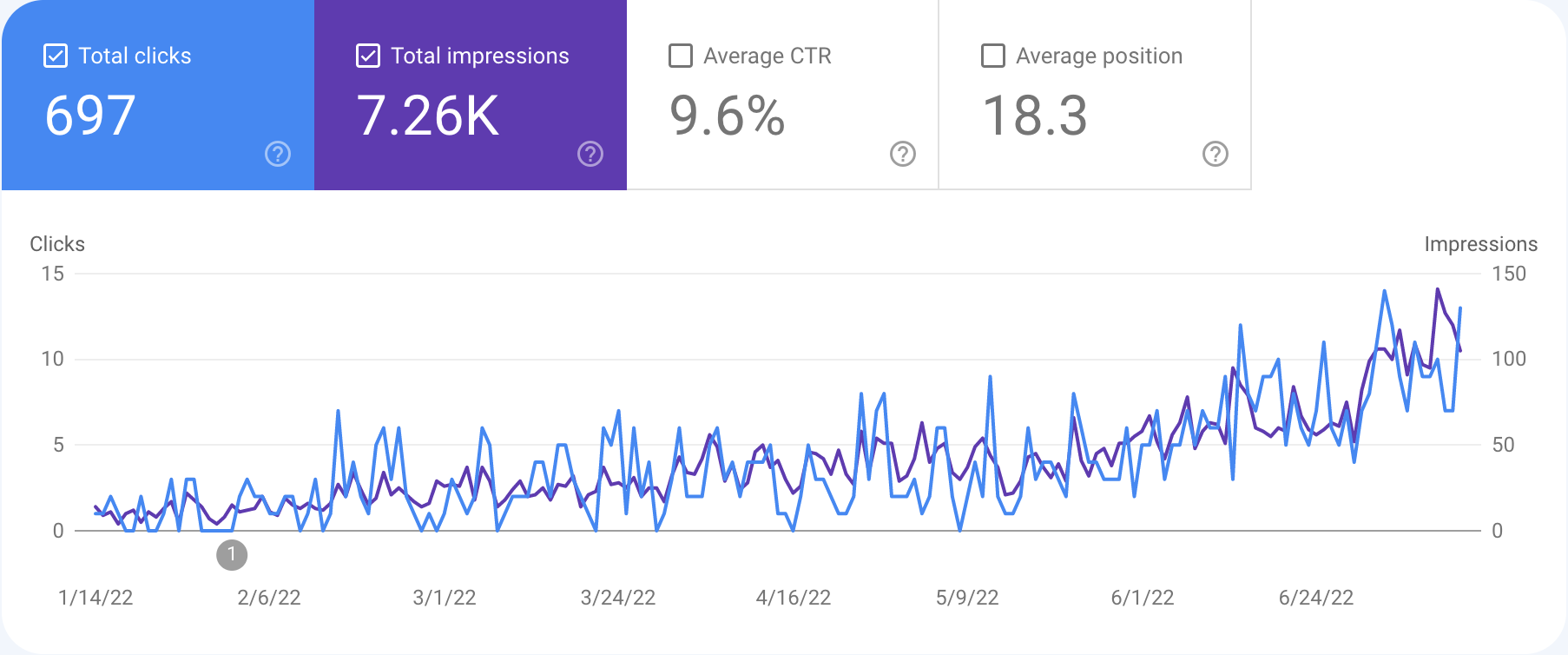 ATTRACT AND CONVERT MORE LEADS TO YOUR WEBSITE
WE KNOW YOUR CHALLENGE. LET US HELP.